July 15, 2016 12:34 am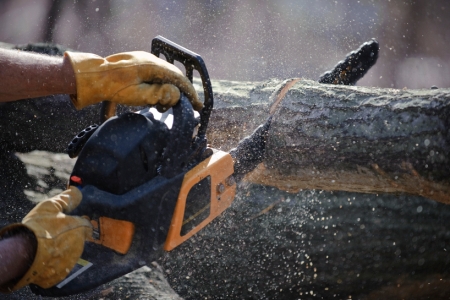 Preparation is vital for property owners that stand to be impacted by an impending storm—so much so that it can be life-saving even after storm conditions have subsided. Post-storm cleanup, especially, can be made less challenging with precautionary measures.
"Preparing for bad weather is always wise," says Kris Kiser, president and CEO of the Outdoor Power Equipment Institute (OPEI), an internationally-recognized association. "While everyone thinks about buying milk, bread and toilet paper before a storm, many people forget about making sure their outdoor power equipment is in order "It's important to keep your equipment in working order, have the right fuel for your generator or chain saw, and know where your safety gear is."
Kiser and the OPEI suggest property owners plan ahead for a safe cleanup by:
Taking Stock
– Take a look at the property and consider what-if scenarios:
• Will the buckling deck survive the storm?
• Will the shed withstand high winds?
• Will that tree fall?
Inspect the equipment you do have and purchase other items, such as a chain saw, reflective clothing or safety goggles, if needed.
Fueling Up
– It is common for fuel stations to close in the days following a severe storm. Stock up on the fuel needed to power any outdoor equipment you may be using, including a generator. Bear in mind that for outdoor power equipment, it is illegal to use fuel containing more than 10 percent ethanol.
Reviewing
– Before the storm hits (and the power potentially goes out), take time to review operator's manuals of any outdoor power equipment you plan to use for post-storm cleanup. Reviewing this information can help reduce safety risks when operating the equipment.
Staying Safe
– To minimize hazards during cleanup:
• Exercise extreme caution when using a chain saw. A chain saw can "kick back" when the chain touches an object, so stand with your weight evenly distributed to both feet, away from the blade. Do not use a chain saw with one hand.
• Keep stable footing when using a pole pruner or saw. Ensure any bystanders and power lines are at least 50 feet away from the area.
• Ventilate portable generators. Do not operate a portable generator inside the home or the garage—doing so can cause buildup of carbon monoxide, which can be lethal. Place the generator outside of the home, away from windows, doors and vents.
Remaining Aware
– Note the area surrounding the cleanup zone. Do not allow others (pets, included) in the zone, even if cleanup is just beginning. Stay abreast, too, of physical limitations. Keep hydrated and take breaks, if needed.
Source: Outdoor Power Equipment Institute (OPEI)
Published with permission from RISMedia.